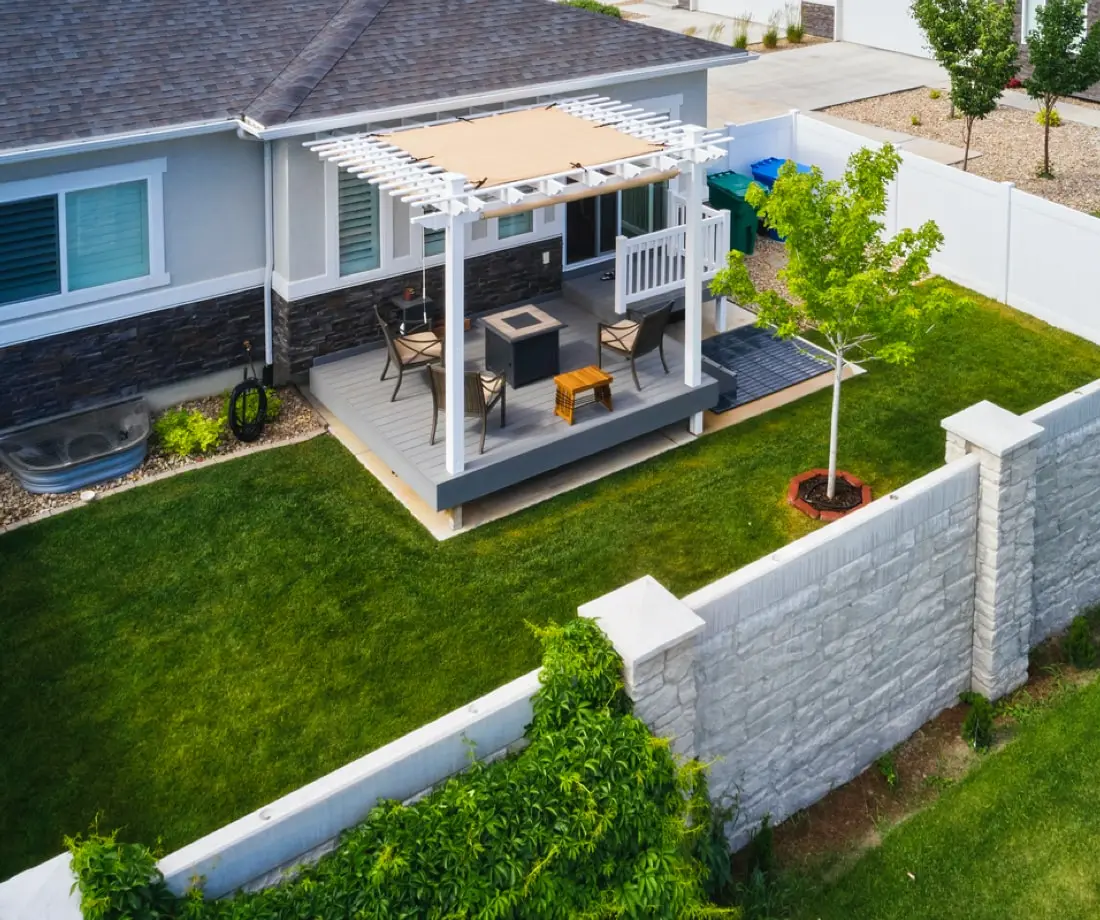 Struggling Lawn? It May Be Suffocating!
No, seriously. If your lawn isn't looking its best despite your best efforts, it may be a sign that it's not getting enough air. Your grass needs oxygen as well as other nutrients to survive and thrive, and if your soil is compacted, it's not able to get enough of them. That's why aeration is a must for any healthy lawn. Aeration helps to break up and relieve compaction, allowing oxygen, water, and other nutrients to penetrate into deeper parts of the soil so your grass can get the sustenance it needs to flourish. Elrod Landscaping can get your Georgia lawn breathing in the Cumming, Canton, Alpharetta and surrounding areas.
Get Your Soil Breathing Again
Just as life above the surface needs oxygen, so, too, does the life beneath. Lawn aeration allows for tiny oxygen-rich pores to form in the soil, giving your yard a much-needed breath of fresh air. It also helps to improve drainage and reduce water runoff, meaning less flooding and more happy grass. Aerating also helps grass roots reach deeper into the ground, creating greater stability. This means that even during those dreaded dry spells or typical hot and humid summers, you'll see that your lawn will stay lush and green. At Elrod Landscaping, we know how to get your lawn breathing once again. Our aerating pros have the equipment and the know-how to get the job done quickly and efficiently, giving your lawn the air it needs to stay strong and healthy. So don't ignore that gasping grass! Give us a call today and let Elrod Landscaping bring new life to your lawn with our aeration services. We'll help you make sure it never feels suffocated again.
Customer satisfaction is top priority at Elrod Landscaping. We love what we do, and our customers can tell. See what they've got to say about our aerating service and how we've helped them keep their lawns looking vibrant, healthy, and full of life.
Matthew M.
Canton, GA.
We've been working with Adam and his team for several years now, and we couldn't be more thrilled with the results. From designing our outdoor space to maintaining our lawn, they've always paid careful attention to every detail and demonstrated the utmost professionalism. Once, we had a last-minute request for yard work THAT DAY because we were having a get together — and they were here within the hour! We truly appreciate the exceptional service and quality of work that Adam and his team provide, and we're delighted to recommend them to anyone looking for top-notch landscaping services.
Lauretta N.
Canton, GA.
For years, our muddy yard on a hill had been a constant source of frustration. Despite our best efforts, we simply couldn't get any grass to grow. Then, Elrod Landscaping came to our rescue. They spent an entire day prepping our yard with seeding, aerating, and even adding straw to help the grass take root. The results were nothing short of remarkable! We now have a lush, green lawn that we can enjoy. We're so grateful to Elrod Landscaping for their expertise and hard work, and we highly recommend them to anyone looking for help with their landscaping needs.
Whether your lawn is gasping for air, struggling with poor drainage or just not looking its best, aeration could be the perfect solution. While aerating won't magically and instantly fix every problem you might have with your lawn, it can help address some of the most common and difficult issues. Issues such as water runoff (and/or ponding), soil compaction, thatch build-up, and drought stress can all be addressed with aeration. Give us a call and let us help you make sure your lawn is getting the oxygen it needs for long-term success. Aerate with us and give your grass the boost it needs to stand tall and green all season long!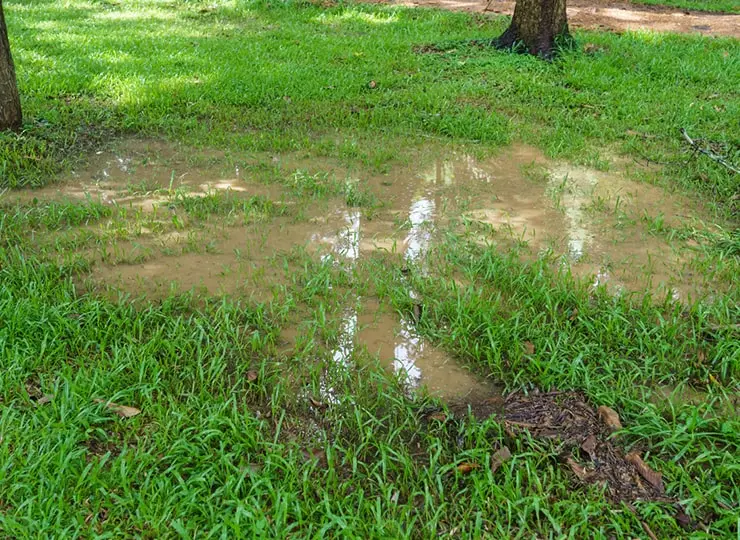 Water Runoff
Ponding and surface runoff are problematic for many homeowners. Nothing is worse than having parts of your lawn that remain soggy and wet days after it rains. Standing water is an open invitation for pests and diseases, so it's best to address the issue head on as soon as possible. The aeration process can help by reducing compaction and surface tension, allowing for more even water distribution and absorption. When you aerate, water can drain properly, and your lawn will stay greener and have an overall healthier appearance. Your yard will also require less water and maintenance, saving you both time and money in the long run.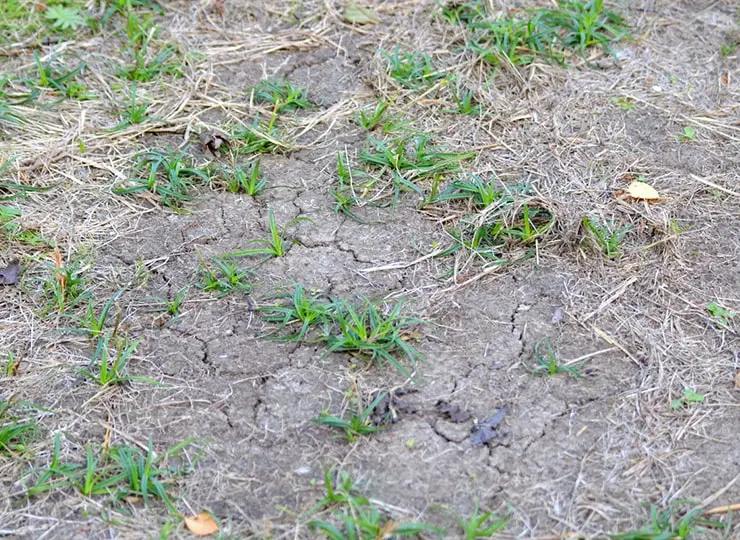 Soil Compaction
Compacted soil is an especially common problem, particularly in areas that experience heavy foot traffic. Soil compaction happens over time, and it can prevent your grass from getting the air and nutrients it needs to stay healthy. Essentially, when your soil is compacted, it becomes hard and dense, making necessary gas exchange and water absorption difficult. Aerating your lawn breaks up compacted soil and creates tiny oxygen-rich pores in the soil, allowing gas exchange and water absorption to happen more efficiently. When compaction is reduced, roots have room to grow deeper into the ground, resulting in healthier, sturdier grass.
Thatch Buildup
Thatch is a layer of partially decomposed organic matter that builds up between your grass and its root system. While some thatch is important for insulation and protection from extreme temperatures, too much of it can reduce vital gas exchange and impede water absorption. That's why regular aeration is important for reducing thatch buildup and making sure your lawn gets the air it needs to stay healthy. The process of aeration breaks up clumps of thatch, allowing for effective water absorption, oxygen exchange, and nutrient incorporation.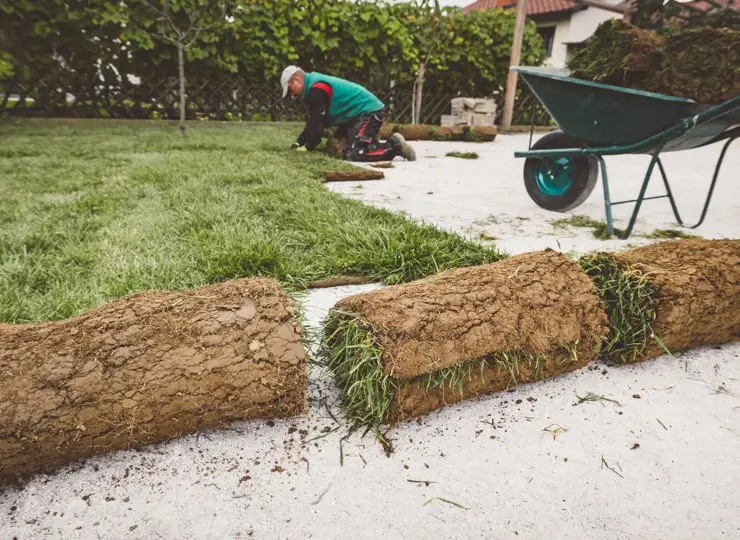 Drought Stress
Dry weather can take a toll on any lawn. When temperatures rise and rainfall becomes scarce, your grass may struggle to survive without extra help. That's where aerating comes in. Aerating helps with drought stress by increasing water retention, which can give your lawn the extra help it needs during those hot summer months that we know are coming, especially in Georgia. An aerator service also reduces compaction in the soil and creates tiny air pockets where moisture can be retained longer between rains or irrigation cycles. These pockets of air also keep your soil cooler during heat waves, helping to reduce stress on the grass.
Serious Commitments, Sincere Stewardship
At Elrod Landscaping, our motivation lies in our commitment to honoring God and helping our neighbors. We understand that your yard is a reflection of you and your family, and we take pride in providing quality landscaping services at competitive prices. We are passionate about caring for God's creation, and we strive to be good financial stewards as well. We appreciate that your time and money are valuable, and we never sacrifice quality for convenience. When it comes to lawn care, aeration is an important part of keeping your lawn healthy, but that's not all we do. We offer a full range of landscaping services to keep your yard looking beautiful all season long.
Regular lawn maintenance takes the hassle out of caring for your yard. We offer mowing, trimming, edging, and leaf removal services to keep your lawn looking neat and tidy all year round. We can also work with you to create a customized maintenance plan that fits your budget and meets the needs of your yard. Whether you need weekly mowing or a few seasonal cleanups, we've got your grass covered.
If your yard doesn't require regular maintenance services, we also offer one-time lawn care services. Our trained technicians will assess the condition of your lawn to determine the best course of action, ensuring that your yard gets the care it needs. We can help with fertilization, weed control and pest management, plus a wide array of other services to get your yard back in tip-top shape.
If your yard doesn't require regular maintenance services, we also offer one-time lawn care services. Our trained technicians will assess the condition of your lawn to determine the best course of action, ensuring that your yard gets the care it needs. We can help with fertilization, weed control and pest management, plus a wide array of other services to get your yard back in tip-top shape.
Just as there are multiple means to care for your lawn, there are also several ways to aerate it. We offer spike aeration, plug/core aeration, and liquid aeration to give your lawn the best results possible. Each of these services helps reduce compaction, improve air circulation, and increase vital gas exchange and nutrient absorption, so you can be sure your lawn is getting the care it needs. Each means to aerate has its advantages as well as disadvantages specific to your soil and what's growing in it. The most suitable type of aeration for your yard will depend on the size of your lawn and the type and condition of the soil you have. Our team is here to help you find the best method to aerate your lawn for your particular needs, so you can rest assured that your lawn will get the care it deserves.
As its name implies, the process of spike aeration involves inserting spikes (via either a rotating drum or wheel) into the soil to create pockets of air. The working parts of a spike aerator are prongs or tines that are inserted into the ground, pushing aside rather than removing the soil and creating small holes that allow for necessary gas exchange and water absorption. This method is best for smaller lawns with mild compaction, and as no plugs of soil are removed, is both a quick and tidy aeration option. However, it may be necessary to spike aerate your lawn multiple times throughout the season to see the best results
Core or plug aeration involves removing small plugs of soil from the ground, creating larger holes for air, water, and nutrients to penetrate the deeper parts of your soil. This method is more effective at relieving soil compaction since it creates more space for roots to grow and allows for better water absorption and gas exchange. However, core aeration can be more invasive and can damage plant roots. It also leaves behind soil plugs on the surface of your lawn, which although beneficial for your lawn, can be unsightly in the short term.
Liquid aeration involves applying a solution to the soil that contains a combination of natural and synthetic materials to loosen compacted soil. This method does not require any mechanical parts or equipment, and it is less invasive than both spike and plug/core aeration. With a liquid aerator, your underground sprinklers, pet fences, and cable lines are all safe, and you won't be left with soil plugs all over your yard. However, it may not be as effective as spike or core aeration since it does not create physical holes in the soil. Liquid aeration is relatively less-known and less widely used than core or spike aeration.
Planning the Perfect Plot
To be sure, aeration is an important part of any lawn care maintenance plan, but if parts of your lawn also look patchy or sparse, aerating in tandem with overseeding may be your best bet. Overseeding is particularly important for lawns that have suffered from drought, disease, or heavy traffic. When used together, aeration and overseeding can be even more effective at promoting healthy grass growth.
Aeration helps to create a better environment for grass seed germination by allowing air, water, and nutrients to reach the roots more easily. The small holes created by aeration also provide a place for the grass seed to take root, leading to stronger, healthier grass.
Overseeding, in turn, helps to fill in thin or patchy areas created by aeration, making the lawn look fuller and more uniform. We typically aerate and overseed lawns in the spring or fall, though some parts of our coverage areas may be more time flexible due to climate and soil conditions.
When the time comes to aerate your yard, trust the expertise and experience of Elrod Landscaping. Whether parts of your lawn show outward signs of compacted soil, or you have areas with standing water issues, we can help. We have multiple means to aerate your property as well as the know how to get it done right the first time. Our aerator team will assess all areas of your lawn and develop a process-driven plan that will have your yard up to par in no time. If you live in the areas in and around Cumming, Canton, or Alpharetta, Georgia, we've got your back and your grass. When you're ready to aerate, or think your lawn would benefit from aerator services,
contact the experts
at Elrod Landscaping and see how good your lawn can look!