Whether you love to DIY outdoor projects but lack the time or if you find lawn work a hassle but want to save money, everybody needs a hand sometimes. You don't have to do it all – in fact, sometimes the smartest choice is to delegate and get some of these jobs off your plate.
But don't let just anyone touch your precious lawn. Homeowners in Canton, Ball Ground, Cumming, Alpharetta, Milton, and surrounding areas are choosing professional lawn care services from Elrod Landscaping because of our quality and fair pricing. We're bonded, insured, knowledgeable, and dedicated. You'll breathe a sigh of relief and regain some control over your time when you put your turf in the capable hands of our lawn experts.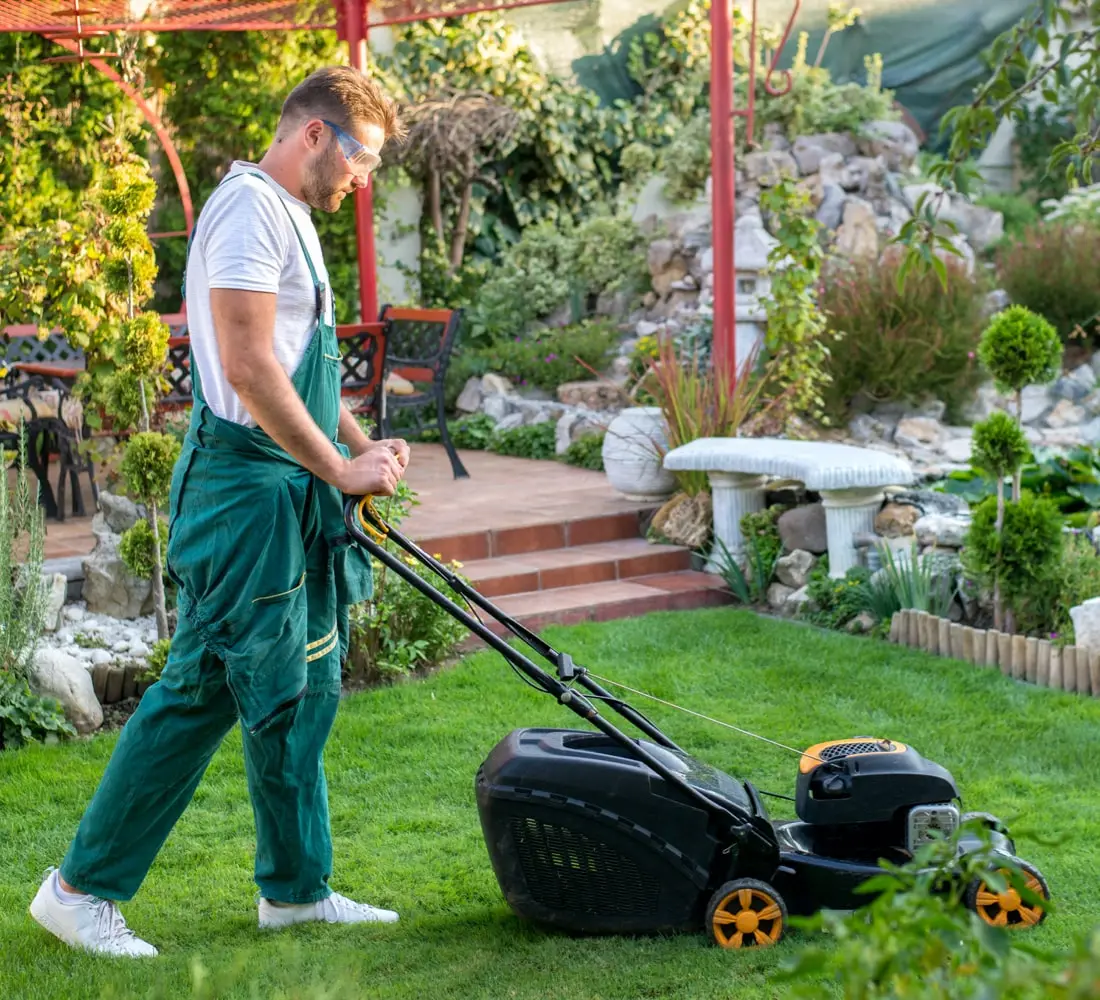 Let us give you a lawn you love
Handling all your lawn care on your own might save you money, or it could result costly mistakes. Trimming a tree or shrub at the wrong time can kill vegetation. Planting the wrong grasses, over-spraying weeds, choosing the wrong season for fertilization, and neglecting the soil are all common errors DIY-ers make. Doing these jobs by yourself – even if you do them perfectly – also takes much longer than a dedicated, professional crew.
But when you work together with a pro like Elrod Landscaping, you can avoid expensive mistakes, save some time (and your back), and get the weed-free beautiful green lawn you can be proud of. This is one of those times when teamwork really is the best choice.
When it comes to hiring help, we get how frustrating it can be – especially if you've had trouble in the past. Don't let that keep you stuck doing it all yourself, though. Check out our reviews and see what other homeowners have to say about our quality and integrity.
Matthew M.
Canton, GA.
We've been working with Adam and his team for several years now, and we couldn't be more thrilled with the results. From designing our outdoor space to maintaining our lawn, they've always paid careful attention to every detail and demonstrated the utmost professionalism. Once, we had a last-minute request for yard work THAT DAY because we were having a get together — and they were here within the hour! We truly appreciate the exceptional service and quality of work that Adam and his team provide, and we're delighted to recommend them to anyone looking for top-notch landscaping services.
Lauretta N.
Canton, GA.
For years, our muddy yard on a hill had been a constant source of frustration. Despite our best efforts, we simply couldn't get any grass to grow. Then, Elrod Landscaping came to our rescue. They spent an entire day prepping our yard with seeding, aerating, and even adding straw to help the grass take root. The results were nothing short of remarkable! We now have a lush, green lawn that we can enjoy. We're so grateful to Elrod Landscaping for their expertise and hard work, and we highly recommend them to anyone looking for help with their landscaping needs.
The services you need, when you need them
When you choose Elrod Landscaping, you get the services you need without hassles or endless upselling. We're committed to serving our customers and taking care of the planet, so you won't find us recommending unnecessary treatments or cutting corners. Here are some of the most popular services we offer. If you don't see what you're looking for, just ask!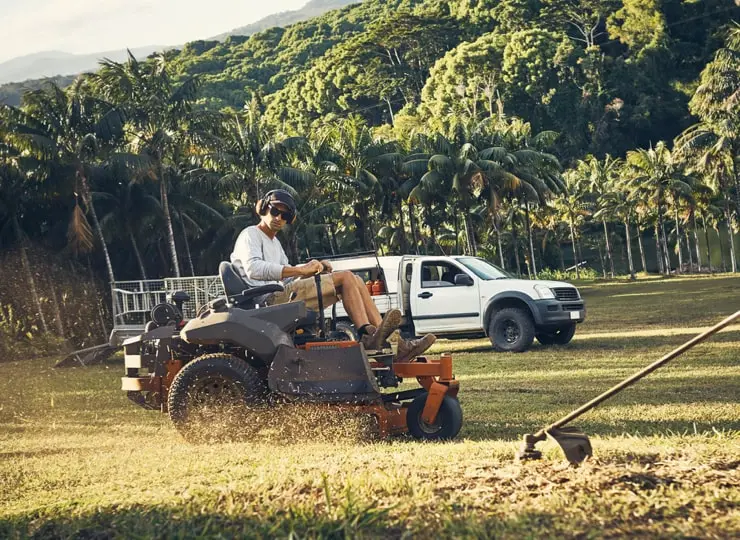 Does the spring rain leave puddles in your lawn? Is your turf more weeds and bare patches than grass? If your lawn is struggling, sparse, and inconsistent, you could be dealing with excessive thatch that's suffocating your grass. This problem isn't limited to older yards, either. It can hit a lawn that is just a few years old under the wrong conditions. Fortunately, lawn aeration treatment can rejuvenate soil, revive oxygen-deprived grass, and bring your lawn back to life without having to start from scratch. Call us today for a free aeration analysis and estimate.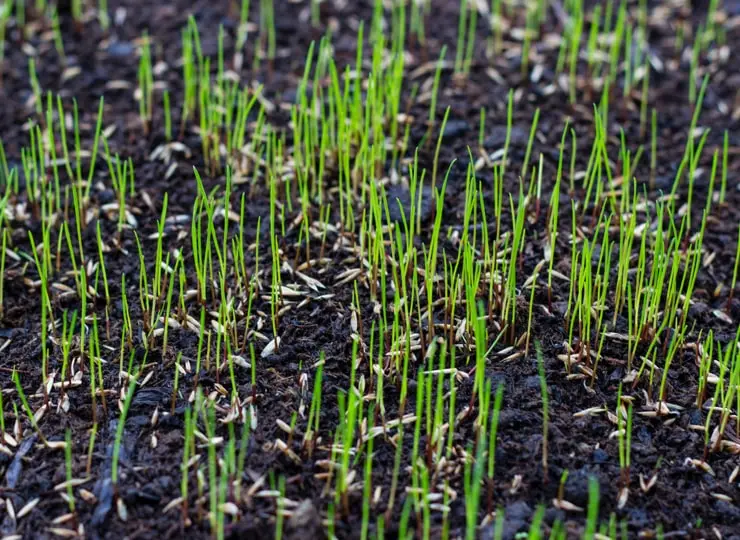 Is your lawn looking sparse? Patchy grass is the fastest way to make your lawn look unhealthy and reduce your property value. But before you throw in the towel and rip the whole thing out, consider overseeding services. By giving your existing grasses a boost, you can improve its appearance and cut some costs at the same time. Just make sure the job gets done right. Elrod Landscaping specializes in overseeding services and we ensure a professional treatment every time. Give us a call today for a free analysis and find out if overseeding is the solution to your struggling lawn.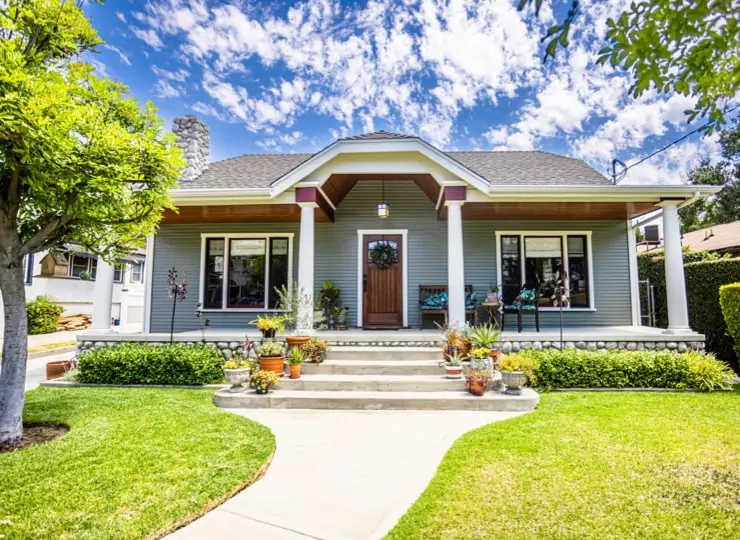 You know the drill – mowing, edging, shrub and tree trimming, leaf blowing, fertilization, weed control treatment, and more. Maybe you love the outdoor time and maybe the thought alone is enough to make you consider a condo. Either way, Elrod Landscaping has your back. Call us in to handle your routine lawn maintenance services when you're extra busy or on vacation, or we can make it a regular thing and come back to give you a hand every week. Trust us, your turf and soil will thank you, whether it's spring, summer, fall, or winter!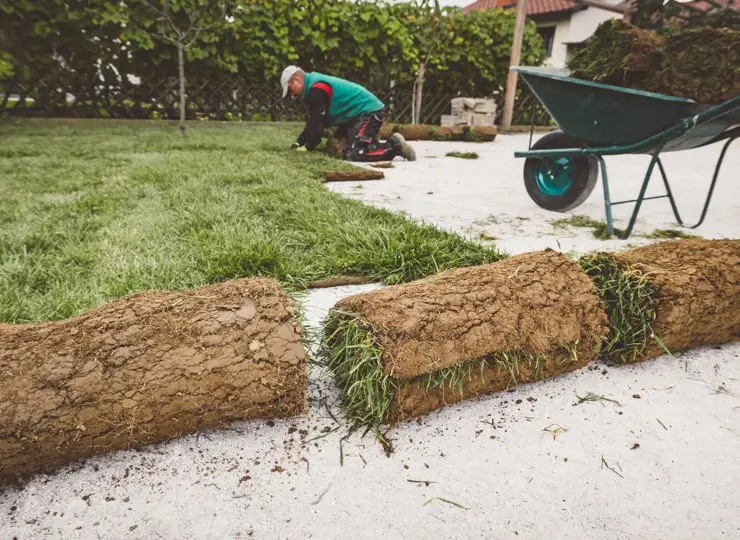 Sod installation services
Sometimes a lawn is just gone beyond repair and it's time to start from scratch. No amount of aeration services, fertilization treatment, overseeding, soil amendment, or weed control is going to save it. Or perhaps it might, but you're in a hurry and need to get your lawn up to par fast. But proper sod installation is more than just throwing down some squares and calling it a day. Common sod installation errors like waiting too long to install, not watering soon enough or deeply enough, and watering at the wrong time can ruin your new turf. Make sure the job is done right by calling in the pros at Elrod Landscaping.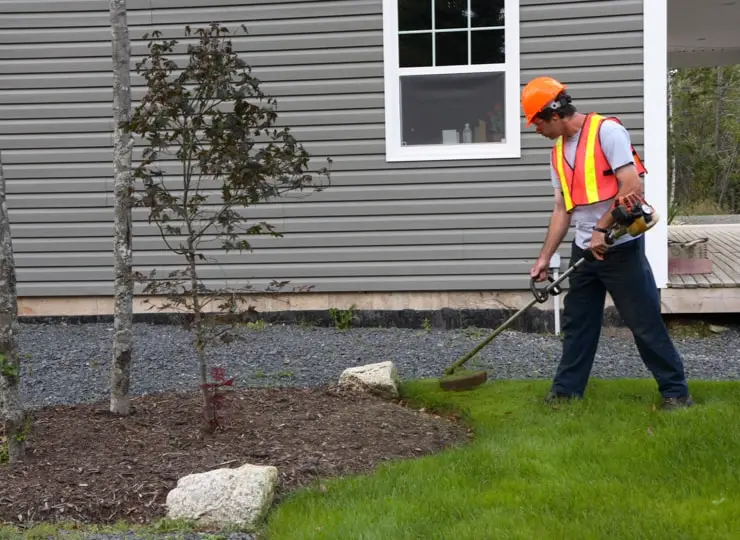 Pine straw and mulch installation services
Pine straw or mulch for ground covering isn't just for looks. It also helps keeps the ground a more consistent temperature, improves moisture retention, and reduces erosion. Good mulch protects tree and shrub roots, helping them stay healthy and strong longer. The fact that mulch makes your yard look sharp is also an important bonus! Mulching during the fall and winter helps protect plants from cold temperatures, but mulching in early spring helps control weeds so don't let the time of year hold you back. We'll make sure your ground is covered so it looks good, stays within your budget, and gets the job done, too.
Lawn care services: Not just for good looks
Everybody wants a good-looking lawn. But hiring a lawn care service company has benefits beyond just saving time, keeping the grass cut, and getting rid of weeds. Here's just a few of the bonuses you can expect when working with Elrod Landscaping.
A well-maintained overall outdoor space can increase your property values and help you better manage what you have, no matter the size of your lawn. At Elrod Landscaping, we can make recommendations for space saving solutions, weed control, ways to improve what you've already got, or the best way to replace your current landscape if it's just not working for you. Then you can decide which parts you want to DIY and which jobs you'd rather we handle for you.
A good lawn care service provider can also help you control unexpected costs by catching problems early. The eyes of an expert on your yard – even just a few times a year – can mean the difference between a healthy, sharp-looking outdoor area for your home and a pest or fungal infestation that gets out of hand before you even realize you've got a problem. We know the early signs of lawn care headaches like Dollar Spot, Pythium blight, slime mold, and other common diseases that hit grasses in Georgia and how to eliminate or keep that situation under control before it becomes an expensive hassle.
Finally, a quality lawn service company like Elrod Landscaping can provide properly applied fertilization and weed control services. Timing matters when it comes to growth promotion and weed control, and so does the amount. Too much, too little, or nutrients applied to grass at the wrong time can result in an unruly turf full of weeds or soil that doesn't provide your grass with enough resources to grow in strong and full. We'll also do your shrub and tree trimming at the right time of year to promote growth and manage their shape.
Elrod Landscaping: Honesty and accountability
Our commitment to good stewardship is what sets Elrod Landscaping apart. Managing your land and earning your trust is a responsibility we take seriously. Our work has a direct impact on the world and we are accountable and responsible for it. Our lawn care and landscaping services are more than just a job. Healthy lawns not only look good, but they also provide a safe space for you and your family to play outside. Our goal is to conserve natural resources and promote the long-term health of your grasses and your entire outdoor space.
We offer straightforward, competitive pricing on all our services to provide our customers with the best value. As part of our commitment to making your lawn work for you, we are here to give you a hand and maintain it effectively. As good stewards of what has been entrusted to us by you, Elrod Landscaping will serve you honestly and honorably. Due to our integrity, quality work, and fair prices, our clients in Canton, Ball Ground, Cumming, Alpharetta, Milton, and surrounding areas have found good reason to trust us with their turf. Our team of experts at Elrod Landscaping will make sure the job is done right every time, and we mean it.
Yes, you can pick and choose
Not every lawn needs every service. With Elrod Landscaping lawn care services, you really can pick and choose what you need help with without having to buy the whole package. Plus, with our expert eyes we can save you time and money by identifying the best way to treat your lawn, protect your grasses, control your weeds, and generally keep your turf looking its very best from the first buds of spring through the last chill of winter.
When you choose which services you want to outsource and which ones to keep to yourself, it puts you fully in charge of your lawn. If you want to do your own routine maintenance and weed control but don't feel as confident doing your own aeration or tree and shrub trimming, a hybrid model of lawn care will put you in the sweet spot. On the other hand, choosing Elrod for time-consuming weekly or bi-weekly lawn care means you can save your back for doing some of the bigger jobs as weekend warrior projects. Other homeowners may prefer to take care of business during the summer and winter months, but want a little extra help during the spring and fall transition phases.
However you mix up your turf service is completely up to you. No matter what services you choose to DIY and what you send our way, you can trust Elrod Landscaping to keep up our end of the deal. We work with you to deliver exactly what you need at a fixed and competitive price. That means you can stay on budget and still carve out a little extra time for the more important things in your life. You can get started by learning more about our services here on our website, or just give us a call and talk it over with one of our reps. We'll get you squared away.
Let's get started
We get it – life's busy. Don't let a shortage of time, energy, or know-how stand in the way of your top-notch turf. Instead, get the best out of your lawn with teamwork. Whether you need an aeration service, fertilization treatment, tree and shrub trimming, to eliminate weeds, or all of the above, your lawn will love Elrod Landscaping. Call us today for a free estimate and let us take some (or all) of the burden off your shoulders.